Many people who support vaccine mandates have cited, as a reason for their support, the fact that the mandates keep non-vaccinated people out of their cities. For example, when I have expressed my opposition to the city of Boston's requirement that people present proof of vaccination in order to enter restaurants, bars, theaters, and gyms, people have responded by telling me that I had better stay out of "their" city, and that people like me are not welcome there. When mandate opponents declare their intention to stop visiting restaurants, bars, theaters, and gyms in Boston, they are ridiculed by those who assert that the entire purpose of the mandate is to keep people like them out anyway.
On a moral and philosophical note, comments like these are wrong. There is simply no valid reason to dislike, exclude, stigmatize, or look down on people who opt against vaccination. People have an absolute right to decline medical interventions, and in no circumstance is the decision to get a medical procedure morally superior to the decision not to get one. Any government policy whose purpose is to "keep out" people who have done nothing wrong is unjust and discriminatory, and anyone with human decency would oppose such policies, not cheer them on.
On a personal note, these comments are hurtful. I have always considered Boston my city just as much as anyone else's. Although I do not live in the city itself, I have lived in the suburbs of Boston all my life. I am a fan of all the Boston sports teams, have a Boston accent, and consider myself to be from Boston. I worked in Boston for many years. Since childhood I have enjoyed visiting museums, attending Bruins, Celtics, and Sox games, enjoying special events in the city, and eating and drinking at its restaurants and bars. As I became a young adult, I learned how to navigate on the "T." Exploring the different Boston neighborhoods and taking photos of the buildings, statues, and landmarks became one of my biggest hobbies.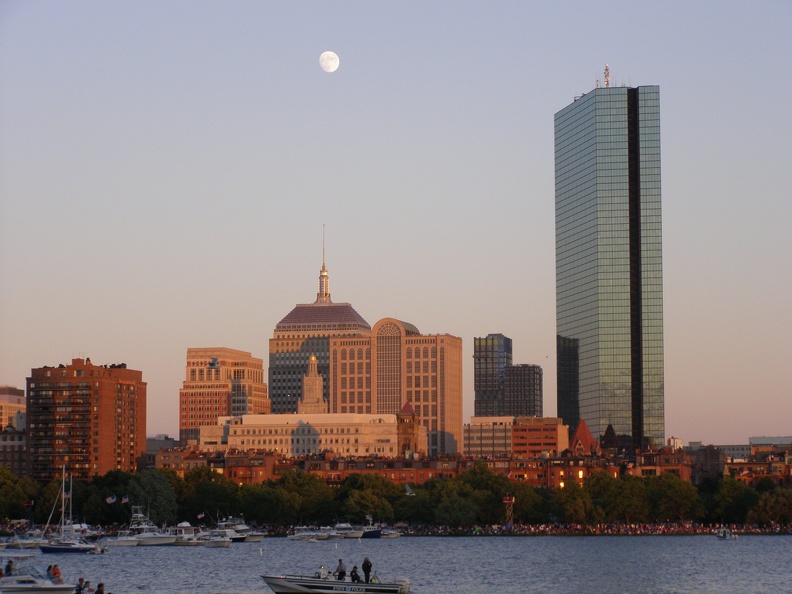 But the city has changed. Over the past two years, it has become increasingly apparent that Boston is no longer a place where people like me are welcome. The statues, monuments, and holidays that honor my culture and reflect my values have been abolished and removed, replaced by those honoring other people's cultures and values. And now, because I believe in privacy and medical freedom, I am barred from participating in public life. People, many of whom are likely younger than me and who likely have lived in the Boston area for less time than I have, are telling me to "stay away" from "their" city and are bragging about policies designed to "keep out" people like me. 
The destruction of the Christopher Columbus statue, the abolition of Columbus Day, and now the requirement that people show proof of vaccination in order to go about their lives – each of these losses was a punch to the gut. The city that I loved, and that I considered a part of my identity, is no more. Now, when I hear or see the word "Boston," I feel sick to my stomach. Something that once filled me with joy and pride now makes me feel visceral disgust.
I wrestle with the question of what is the best thing to do about this unfortunate situation. Should I hold out hope that the mandate will eventually be repealed, and pray in the meantime that it does not spread to additional types of businesses or other cities and towns? Is there a chance that Boston might one day return to being a city where I feel included as opposed to hated? Should I identify myself with the specific suburb than I live in, as opposed to the Boston area? Or should I move to a different state or perhaps a different country, where people of my values, ethnicity, sexual orientation, and medical status might be more welcomed?
The answers to these questions depend on how the situation unfolds: whether courts uphold vaccine mandates or strike them down, whether or not mandates spread to the Boston suburbs, and whether or not they are repealed as covid numbers decrease. As someone on the autism spectrum, it is difficult to have my future up in the air. When I bought my home, I operated on the assumption that it would be where I would live for the rest of my life. When I started my job, I assumed that I would continue with it until I reached retirement age. The possibility of having to uproot myself and establish a new life in a completely new location is daunting. But it may be the only option if I wish to once again have a life that is worth living. Existing in the Boston area, where my history and culture are condemned as racist, where human dignity is not valued, where individual rights are ridiculed, and where I am treated as an outsider despite having lived here for my entire life, is not tolerable for me.
The discriminatory and exclusionary sentiments of vaccine mandate supporters are even more objectionable when one considers the fact that, to a large extent, these are the same people who have so vocally supported the ideas of diversity, tolerance, and inclusion in other contexts. When it comes to the pandemic, however, these values are thrown out the window. Demanding that everyone make the same choices as you is the antithesis of diversity. Condemning people for their personal medical decisions is the antithesis of tolerance. And eagerly calling for people to be kept out of "your" city is the antithesis of inclusion. 
It is my opinion that those whose opinions dominate our public discourse do not truly believe in diversity, tolerance, or inclusion at all. Instead, they only value people who are like them, and believe that anyone who is different deserves to be shamed, ridiculed, and punished. This way of thinking is similar to that of popular kids in middle school who bully and exclude anyone who dresses differently, talks differently, or thinks differently. I never expected that as an adult, I would once again be living in a world dominated by a mentality that people used to mature out of by the time they reached high school. How pathetic that those who hold positions of power in our society are no better than middle school bullies.